Pengaruh Mikrosfer Kitosan Minyak Kelapa Sawit pada Ginjal Mus musculus Diinduksi NTA
Abstract
NTA (Nekrosis Tubular Akut) merupakan sindrom GGA (Gagal Ginjal Akut) intrinsik karena kondisi iskemia atau paparan agen nefrotoksik. Hal tersebut menyebabkan banyak sel tubulus mengalami kematian dan menurunkan fungsi tubulus sehingga berakibat GGA. Proses peroksidasi lipid dapat menyebabkan NTA dan dihasilkan radikal bebas malondialdehida (MDA) yang dapat merusak fungsi sel. Minyak kelapa sawit dengan kandungan senyawa antioksidan mampu memperbaiki kondisi NTA dengan menghambat proses peroksidasi lipid sehingga kadar MDA menurun. Minyak kelapa sawit dengan pembawa kitosan dalam bentuk mikrosfer memungkinkan peningkatan bioavaibilitas minyak kelapa sawit sehingga dapat menembus ginjal. Studi experimental post-test only controlled group design dilakukan pada 24 Mus musculus yang terbagi dalam 6 kelompok yaitu kontrol positif (KP), kontrol negatif (KN), kelompok mikrosfer kitosan minyak kelapa sawit dosis 0,072 mg/gBB (P1) dan dosis 0,107 mg/gBB (P2), serta kelompok minyak kelapa sawit dosis 0,14 mg/gBB (P3) dan dosis 0,21 mg/gBB (P4). Variabel yang diukur adalah kadar  MDA menggunakan metode spektrofotometri (Na-TBA). Hasil menunjukkan kadar MDA dari yang tertinggi sampai yang terendah berturut-turut adalah KP, P1, P2, P3, P4, dan KN. Kelompok KN, P2, P3, dan P4 memiliki perbedaan yang signifikan dengan KP (p < 0,001) sementara kelompok KP, P1, P2, P3, dan P4 memiliki perbedaan yang signifikan dengan KN (p < 0,001). Penelitian ini menunjukkan bahwa  mikrosfer kitosan minyak kelapa sawit dapat menurunkan kadar MDA Mus musculus yang mengalami NTA pada dosis mikrosfer minyak kelapa sawit sebesar 0,107 mg/gBB.

Kata kunci: LMWC, Malondialdehida, Mikrosfer, Minyak Kelapa Sawit, Nekrosis Tubular Akut, Peroksidasi Lipid
References
Rosen S, Isaac ES. Acute tubular necrosis is a syndrome of physiologic and pathologic dissociation. J Am Soc Nephrol. 2008; 19:871-875.
Rinawati W, Diana A. Kidney injury molecul-1 (KIM-1) sebagai penanda baru nekrosis tubular akut. Majalah Kedokteran Indonesia. 2011; 61(2):81-85.
Dipiro JT, Talbert RL, Yee GC, Matzke GR, Wells BG, Posey LM Pharmacotherapy: a pathophysiologic approach. New York: The McGraw-Hill Companies, Inc.; 2008.
Barrera G. Oxidative stress and lipid peroxidation products in cancer progression and therapy. ISRN Oncology. 2012; (2012):1-21.
Atlas of Pathology. Toxic tubular necrosis third edition. Romania: University Medicine of Pharmacare; 2009.
Jetawattana S. Malondialdehyde (MDA) a lipid oxidation product. [paper]. Iowa: Departement of Radiation Oncology University of Iowa; 2005.
Saifudin A, Saltanat HR. Enhancing the removal of phenolic compounds from palm oil mill effluent by enzymatic pre-treatment and microwave-assisted extraction. Chem Sci Trans. 2014; 3(3):1083-1093.
Han M, Yuen M, Ah NM, Cheng HC, Mohamed AY. Separation of vitamin E (tocopherol, tocotrienol, and tocomonoenol) in palm oil. Lipids. 2004; 39(10):1031-1035.
Mitra A, Baisakhi D. Chitosan microspheres in novel drug delivery systems. Indian J. Pharm. Sci. 2011; 73(4):355-366.
Yuan ZX, Jing JL, Xun S, Tao G, Zhi RZ. Enhanced accumulation of low molecular weight chitosan in kidneys: a study on the influence of n-acetylation of chitosan on the renal targeting. J Drug Target. 2011; 19(7):540-551.
Paramita ID, Ressa PD, Aji P. Kinetika reaksi hidrolisa lmwc dengan HCl. Jurnal Teknik Kimia dan Industri. 2012; 1(1):513-520.
Qinna NA, Qutuba GK, Nawzat A, Mayyas AA, Tawfiq MA, Khaldoun AA, et al. Influence of molecular weight and degree of deacetylation of low molecular weight chitosan on the bioactivity of oral insulin preparations. Mar. Drugs. 2015; 13:1710-1725.
Ghosh P. Fundamental of polymer science: molecular weight of polymer. [paper]. Kolkata: Polymer Study Centre; 2006.
Chandrasekaram K. Analysis of phytonutrients from palm concentrates by high performance liquid chromatography. [thesis]. Kuala Lumpur: Faculty of Science University of Malaya; 2009.
Kumar SS, Saha AK, Kavitha K, Basu SK. Evaluation of clobazam loaded ionically cross-linked microspheres using chitosan. Der Pharmacia Sinica. 2012; 3(6):616-623.
Wakefield J.C. Formaldehyde General Information. Health Protection Agency. 2008.
ATSDR. Toxicological profile for acetone. USA: Public Health Service. U.S. Department of Health and Human Service. 1994.
SOP Farmakologi. Standard Operational Procedure of MDA measurement. Malang: Laboratorium Farmakologi Fakultas Kedokteran Universitas Brawijaya. 2016
Manjula A, Selvam P, Nirmal R, Shakilabanu. In vitro evaluation studies of crosslinked chitosan microspheres contain rabeprazole sodium. IJPSR. 2011; 2(6):1513-1517.
Word Health Organization. Formaldehyde in drinking-water. WHO Guidelines for Drinking-Water Quality. 2005.
American Chemistry Council Acetone Panel. Acetone. USA: Voluntary Children's Chemical Evaluation Program Submission. 2003.
Stang. Cara praktis penentuan uji statistik dalam penelitian kesehatan dan kedokteran. Jakarta: Mitra Wacana Media; 2014.
Bhattacharyya A, Ranajoy C, Sankar M, Sheila EC. Oxidative stress: an essential factor in the pathogenesis of gastrointestinal mucosal diseases. Physiol. Rev. 2014; 94:329-354.
Khanna P, Cyntia O, Boon HB, Gyeong HB. Nanotoxicity: an interplay of oxidative stress, inflammation and cell death. Nanomaterials. 2015; 5:1163-1180.
Ayala A, Mario F, Sandro A. Lipid peroxidation: production, metabolism and signaling mechanism of malondialdehyde and 4-hydroxy-2-nonenal. Spain: University of Seville; 2014.
Tan R, Mohamed S, Samaneh GF, Noordin M, Goh YM, Manap MY. Polyphenol rich oil palm leaves extract reduce hyperglycaemia and lipid oxidation in STZ-rats. IFRJ. 2011; 18:179-188.
Yamauchi R. Vitamin E: Mechanism of its antioxidant activity. Food Sci Technol. 1997; 3(4):301-309.
Al-Sou'od K, Rasha A, Mayyas A. Surface activity of some low molecular weight chitosan derivates. Jordan J. Chem. 2013; 8(1):1-17.
Leonard SW, Eric G, Michael WD, Ronald JS, Maret GT. Quantitation of rat liver vitamin e metabolites by lc-ms during high-dose vitamin e administration. J. Lipid Res. 2005; 46:1068-1075.
Fairus S, Rosnah MN, Hwee MC, Kalyana S. Alpha-tocotrienol is the most abundant tocotrienol isomer circulated in plasma and lipoproteins after postprandial tocotrienol-rich vitamin e supplementation. Nutrition Journal. 2012; 11(5):1-11.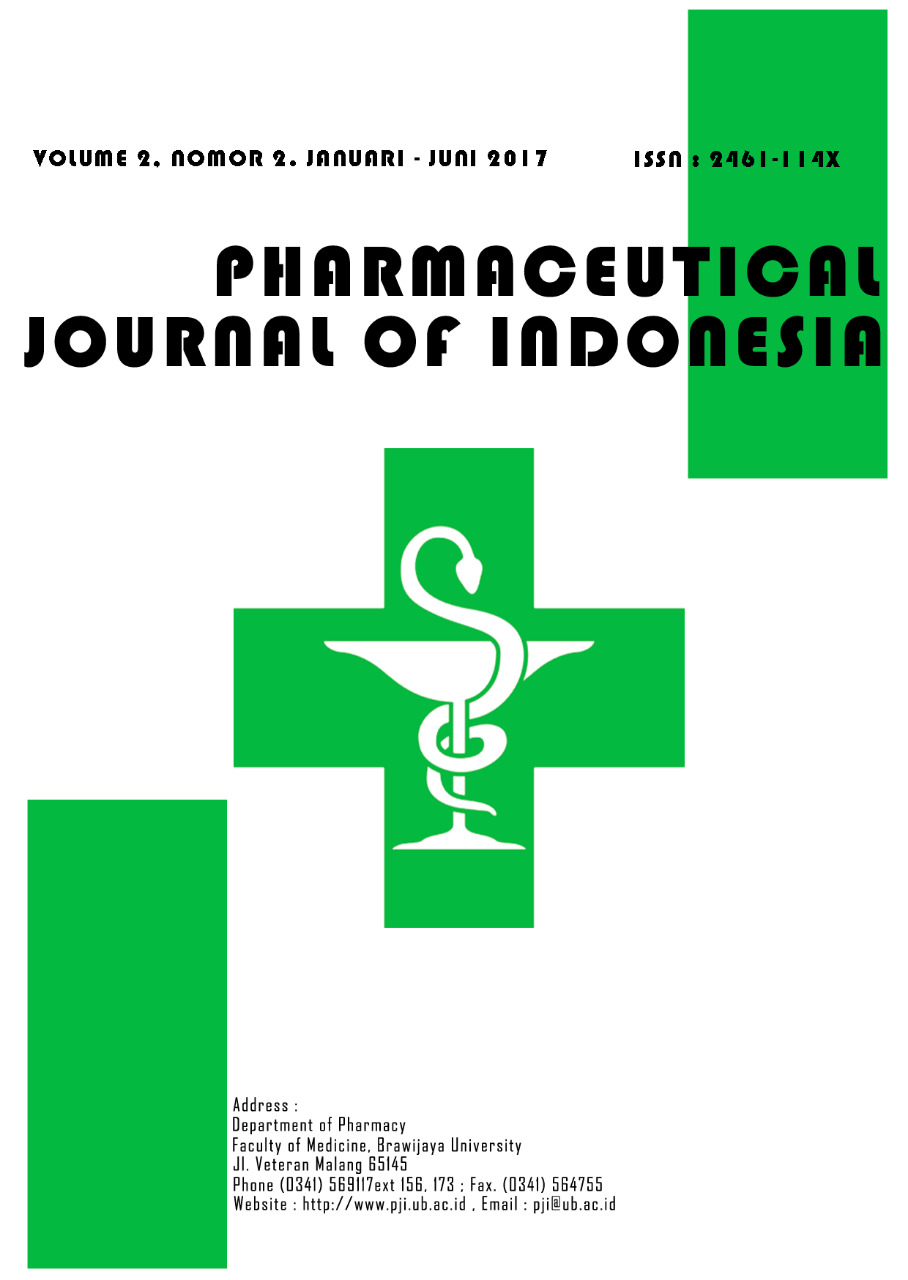 Downloads
License
This work is licensed under a 
Creative Commons Attribution 4.0 International License