Potensi Senyawa Turunan Xanton dari Kulit Buah Manggis (Garcinia mangostana L.) Sebagai Inhibitor Protein Mycobacterium tuberculosis: Studi In Silico
Keywords:
Tuberculosis, Buah Manggis, Molecular Docking
Abstract
Tuberculosis is an infectious disease caused by Mycobacterium tuberculosis infection that attacks the lungs. Tuberculosis is a dangerous disease that can cause death. In overcoming it, a safe and effective treatment is needed so that this disease can be cured. The purpose of this study was to determine the potential activity of the active compounds derived from xanthones contained in the mangosteen rind as an inhibitor of Mycobacterium tuberculosis protein with the comparison compound Isoniazid. The active compounds used in this study were α-mangostin, β-mangostin, γ-mangostin, garsinon, gartanin, and 8-deoxygartanin. This research uses the molecular docking method with Yasara, MarvinSketch, PubChem, PDB, and Plants 1.1 software. The results showed that the Gibss energy produced by each test ligand had a difference value, either lower or higher than the native ligand protein of Mycobacterium tuberculosis. Lipinski screening was done to make it easier to determine a molecule or compound based on its permeability and absorption properties. The results showed that gartanin and 8-deoxygartanin complied with Lipinski's rules. Prediction of pharmacokinetic properties and toxicity was carried out using the pkCSM website and can be concluded that gartanin and 8-deoxygartanin compounds have good pharmacokinetic properties and low toxicity.
References
Arikhman N. Hubungan Perilaku Merokok dengan Kejadian Tuberkulosis Paru Pada Pasien Balai Pengobatan Penyakit Paru-Paru. Ipteks Terap. 2019;5(4):19.
Versitaria HU, Kusnoputranto H. Tuberkulosis Paru di Palembang, Sumatera Selatan Pulmonary Tuberculosis in Palembang, South Sumatera. J Kesehat Masy Nas. 2011;5(72):234–40.
Padmasari PD, Astuti KW, Warditiani NK. Skrining Fitokimia Ekstrak Etanol 70% Rimpang Bangle (Zingiber purpureum Roxb.). Journal. 2013;366:1–7.
Rubiyanti R, Susilawati Y, Muchtaridi M. Potensi Ekonomi dan Manfaat Kandungan Alfa-Mangostin Serta Gartanin dalam Kulit Buah Manggis (Garcinia mangostana Linn). Farmaka. 2016;15(1):15–25.
Yatman E. Kulit buah manggis mengandung xanton yang berkhasiat tinggi. Univ Borobudur. 2012;29:2–9.
Wibawa T, Pangemanan L, Rachmawaty FJ, Rintiswati N, Mustofa, Soesatyo MHNE. Isoniazid (INH) treatment of inh-resistant mycobacterium tuberculosis inhibits infected macrophage to produce TNF-α. Southeast Asian J Trop Med Public Health. 2014;45(5):1–7.
Siregar MIT. Mekanisme Resistensi Isoniazid & Mutasi Gen KatG Ser315Thr ( G944C ) Mycobacterium tuberculosis Sebagai Penyebab Tersering Resistensi Isoniazid. Jambi Med J. 2015;3(2):119–31.
R Lina M, Bela B, Yasmon A. Deteksi Mutasi Gen KatG Mycobacterium tuberculosis Dengan Metode PCR (Polymerase Chain Reaction). A Sci J Appl Isot Radition. 2009;5(1):54–67.
Fitriani IN, Ansory HM. MOLECULAR DOCKING STUDY OF NUTMEG ( Myristica Fragrans ) CONSTITUENTS AS ANTI-SKIN CANCER AGENTS. 2021;6(1):14–22
.
Ahsana D, Andika A, Nashihah S. Molecular Docking Study of Flavonoid Compounds in The Guava Leaves ( Psidium Guajava L ) Which Has Potential as Anti-Inflammatory COX-2 Inhibitors Molecular Docking Study of Flavonoid Compounds in The Guava Leaves ( Psidium Guajava L .) Which Has Potentia. J Ilmu Kefarmasian. 2021;2 (2)(July):67–79.
Suhadi A, Rizarullah R, Feriyani F. Simulasi Docking Senyawa Aktif Daun Binahong Sebagai Inhibitor Enzyme Aldose Reductase. Sel J Penelit Kesehat. 2019;6(2):55–65.
Lelita R, Gunawan R, Astuti W. STUDI DOCKING MOLEKULAR SENYAWA KUERSETIN, KALKON DAN TURUNANNYA SEBAGAI INHIBITOR SEL KANKER PAYUDARA MC-7 ( MICHIGAN CANCER MOLECULAR DOCKING STUDIES QUERCETIN, CHALCONE AND ITS DERIVATE INHIBITOR TO BREAST CANCER CELLS MCF-7 ( MICHIGAN CANCER FOUNDAT. 7:190–6.
Lipinski CA, Lombardo F, Dominy BW, Feeney PJ. Experimental and computational approaches to estimate solubility and permeability in drug discovery and development settings. Adv Drug Deliv Rev. 2001;46(Adv. Drug Deliv. Rev.):3–26.
Krihariyani D, Haryanto E, Sasongkowati R, Woelansari ED. Studi Insilico Aktivitas Antioksidan dan ADMET Brazilein Kayu Secang ( Caesalpinia sappan L .) terhadap Escherichia Coli Extended Spectrum Beta- Lactamase ( ESBL ). Pros Semin Nas Kesehatan, Poltekkes Kemenkes Surabaya. 2019;251–7.
Liu Z, Antalek M, Nguyen L, Li X, Tian X, Le A, et al. NIH Public Access. 2013;65(Nutr Cancer):68–77.
Ikram NKK, Durrant JD, Muchtaridi M, Zalaludin AS, Purwitasari N, Mohamed N, et al. A Virtual Screening Approach For Identifying Plants with Anti H5N1 Neuraminidase Activity. 2015;55:308–16.
Suksamrarn S, Suwannapoch N, Phakhodee W, Thanuhiranlert J, Ratananukul P, Chimnoi N, et al. Antimycobacterial Activity of Prenylated Xanthones from the Fruits of Garcinia mangostana. 2003;51(July):857–9.
Pedraza-chaverri J, Cárdenas-rodríguez N, Orozco-ibarra M, Pérez-rojas JM. Medicinal properties of mangosteen ( Garcinia mangostana ). Food Chem Toxicol [Internet]. 2008;46(10):3227–39. Available from: http://dx.doi.org/10.1016/j.fct.2008.07.024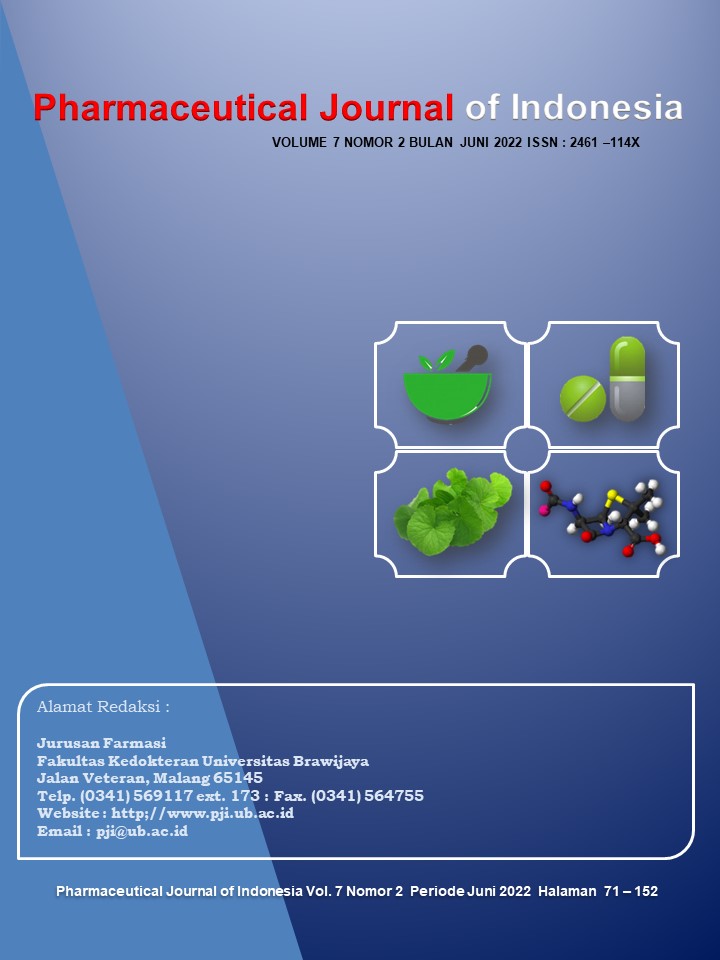 Downloads
License
This work is licensed under a 
Creative Commons Attribution 4.0 International License