Formulasi Sabun Cair Antibakteri Dari Kombinasi Ekstrak Daun Sirih Merah Dan Ekstrak Kulit Lidah Buaya
Keywords:
Antibakteri, Lidah Buaya, Sabun Cair, Sirih Merah, dan Optimasi
Abstract
Daun sirih merah (Piper crocatum Ruiz & Pav.) dan kulit lidah buaya (Aloe vera (L.) Burm.f.) mempunyai manfaat sebagai antibakteri. Tujuan dari penelitan ini adalah optimasi formula sabun cair kombinasi ekstrak daun sirih merah dan ekstrak kulit lidah buaya sebagai antibakteri terhadap Staphylococcus aureus. Penelitian ini dibuat dengan cara ekstrak daun sirih merah dan kulit lidah buaya dimaserasi dengan etanol 96% dan dipekatkan dengan rotary evaporator pada suhu 50°C. Pengujian antibakteri dilakukan terhadap bakteri Staphylococcus aureus menggunakan metode difusi sumuran. Kombinasi ekstrak daun sirih merah dan kulit lidah buaya dibuat dalam 3 perbandingan yaitu 2,5% : 7,5%, 10% : 0%, 0% : 10%. Pembuatan sabun cair antibakteri dibuat dengan metode saponifikasi. Hasil penelitian menunjukkan kombinasi optimum ekstrak daun sirih merah dan kulit lidah buaya dihasilkan pada perbandingan 2,5% : 7,5% dengan aktivitas antibakteri kategori kuat sebesar 19,23 mm. Kombinasi optimum ekstrak daun sirih merah dan kulit lidah buaya 2,5% : 7,5% dapat dibuat sediaan sabun cair antibakteri yang berwarna hijau kecoklatan, pH 8, kadar alkali bebas 0,13%, bobot jenis 1,09 g/mL, stabilitas busa 87%, viskositas 160 cP, rheologi termasuk pseudoplastis tiksotropi, dan memiliki aktivitas antibakteri yang optimum dengan kategori sangat kuat sebesar 26,6 mm
References
Yulianti R, Nugraha DA, Nurdianti L. Formulasi sediaan sabun mandi cair Ekstrak Daun Kumis Kucing (Orthosiphon aristatus (Bl) Miq.). Kartika J Ilm Farm. 2015;3(2):1–11.
Badan Standarisasi Nasional. Standart Sabun Mandi Cair. SNI 06- 4085-1996; 1996.
Rachmawaty FJ, Dewa ACM, Nirwani B, Nurmasitoh T, Bowo ET. Manfaat Sirih merah (Piper Crocatum) sebagai agen Anti Bakterial terhadap Bakteri Gram positif dan Gram negatif. J Kedokt dan Kesehat Indones. 2009;
Apgar S. Formulasi Sabun Mandi Cair yang Mengandung Gel Daun Lidah Buaya (Aloe vera (L.) Webb) dengan Basis Virgin Cocount Oil (VCO). Universitas Islam Bandung; 2010.
Alliance for the Prudent Use of Antibiotics (APUA). Triclosan White Paper Prepared. 2nd Floor. Boston, MA 02111; 2011.
Sudewo B. Basmi penyakit dengan sirih merah. Jakarta: AgroMedia Pustaka; 2008.
Rachmawaty FJ, Akhmad MM, Pranacipta SH, Nabila Z, Muhammad A. Optimasi Ekstrak Etanol Daun Sirih Merah (Piper Crocatum) sebagai Antibakteri terhadap Bakteri Staphylococcus Aureus. Mutiara Med J Kedokt dan Kesehat. 2018;18(1):13–9.
Puspita PJ, Safithri M, Sugiharti NP. Antibacterial activities of Sirih Merah (Piper crocatum) Leaf Extracts. Curr Biochem. 2018;5(3):1–10. Available from: http://biokimia.ipb.ac.id
Hashemi SA, Madani SA, Abediankenari S. The review on properties of aloe vera in healing of cutaneous wounds. Biomed Res Int. 2015;
Wynn RL. Aloe vera gel: Update for dentistry. Gen Dent. 2005;53(1):6–9.
Fatemeh N-B. Antibacterial activities and antioxidant capacity of Aloe vera. Org Med Chem Lett. 2013;3(1):5.
Ariyanti NK, Darmayasa IBG, Sudirga SK. Daya hambat ekstrak kulit daun Lidah Buaya (Aloe barbadensis Miller) terhadap pertumbuhan Bakteri Staphylococcus aureus ATCC 25923 dan Escherichia coli ATCC 25922. J Biol. 2013;1(1):1–4.
Sari R, Ferdinan A. Pengujian Aktivitas Antibakteri Sabun Cair dari Ekstrak Kulit Daun Lidah Buaya. Pharm Sci Res. 2017;4(3).
Zhang Y, Wu X, Ren Y, Fu J, Zhang Y. Safety evaluation of a triterpenoid-rich extract from bamboo shavings. Food Chem Toxicol. 2004;42:1867–75.
Kursia S, Lebang JS, Taebe B, Burhan A, Rahim WO., Nursamsiar. Uji Aktivitas Antibakteri Ekstrak Etilasetat Daun Sirih Hijau (Piper betle L.) terhadap Bakteri Staphylococcus epidermidis. Indones J Pharm Sci Technol. 2016;3(2):72–7.
Retnaningsih A, Primadiamanti A, Marisa I. Uji Daya Hambat Ekstrak Etanol Biji Pepaya Terhadap Bakteri Escherichia coli dan Shigella dysentriae dengan Metode Difusi Sumuran. J Anal Farm. 2019;4(2):122–9.
Senduk TW, Lita ADYM, Dotulong V. Rendemen ekstrak air rebusan daun tua mangrove Sonneratia alba. J Perikan dan Kelaut Trop. 2020;11(1):9–15.
RI DK. Parameter Standar Umum Ekstrak Tumbuhan Obat. 2000;
Arlofa N. Uji Kandungan Senyawa Fitokimia Kulit Durian sebagai Bahan Aktif Pembuatan Sabun. JurnalChemtech. 2015;1(1):18–22.
Suhaimi, Indrawati T, Kumala S. Uji aktivitas kombinasi ekstrak kering lidah buaya (Aloe vera. (L) brum. f.) dan ekstrak kental daun sirih merah (Piper crocatum ruiz & pav) untuk antibakteri penyebab jerawat. J Ilmu Farm dan Farm Klin. 2018;15(1):12–21.
Lestari ABS, Dwiatmaka Y. Aktivitas Antioksidan Ekstrak Daun Sirih Merah ( Piper crocatum ) Hasil Optimasi Pelarut Etanol-Air ( Antioxidant Activity of Red Bettle Leaves Extract ( Piper crocatum ) as a Result of Optimization of Ethanol-Water Solvents ). J Ilmu Kefarmasian Indones. 2014;12(1):75–9.
Safithri M, Yasni S, Bintang M, Ranti AS. Toxicity Study of Antidiabetics Functional Drink of Piper crocatum and Cinnamomum burmannii. Hayati J Biosci. 2012;19(1):31–6. Available from: http://dx.doi.org/10.4308/hjb.19.1.31
Radha MH, Laxmipriya NP. Evaluation of biological properties and clinical effectiveness of Aloe vera : A systematic review. J Tradit Complement Med. 2015;5:21–6.
Subramanian S, Kumar DS, Arulselvan P, Senthilkumar GP. In vitro antibacterial and antifungal activities of ethanolic extract of Aloe vera Leaf Gel. J Plant Sci. 2006;1(4):348–55.
Cellini L, Bartolomeo S Di, Campli E Di, Genovese S, Locatelli M, Giulio M Di. In vitro activity of Aloe vera inner gel against Helicobacter pylori strains. Appl Microbiol. 2013;1–6.
Widyasanti A, Rahayu AY, Zain S. Pembuatan sabun cair berbasis Virgin Coconut Oil (VCO) dengan penambahan minyak melati (Jasminum sambac) sebagai Essential Oil. J Teknotan. 2017;11(2):1–10.
Robbia AZ, Yahdi, Dewi YK. Perbandingan Pengaruh Ekstrak Lidah Buaya (Aloe vera) dan Ekstrak Daun Sirih (Piper betle Linn) Terhadap Kualitas Produk Hand Soap. J Pijar Mipa. 2021;16(2):228.
Hutauruk H, Yamlean PVY, Wiyono W. Formulasi dan uji aktivitas sabun cair ekstrak etanol herba seledri (Apium graveolens L) terhadap Bakteri Staphylococcus aureus. Pharmacon. 2020;9(1).
Pradipto M. Pemanfaatan Minyak Jarak Pagar (Jatropha curcas L.) Sebagai Bahan Dasar Sabun Mandi [Skripsi]. Institut Pertanian Bogor; 2009.
Oktari SASE, Wrasiati LP, Wartini NM. Pengaruh jenis minyak dan konsentrasi larutan alginat terhadap karakteristik sabun cair cuci tangan. J Rekayasa dan Manaj Agroindustri. 2017;5(2):47–57.
Zahra A, Intan OD, Irfan RF, Setyaningrum, Sujuliyani. Sabun cair dengan penambahan ekstrak sargassum (Sargassum polycystum). Bul Jalanidhitah Sarva Jivitam. 2019;1(2):71–9.
Zulkifli M, Estiasih T. Sabun dari distilat asam lemak minyak sawit : Kajian Pustaka. J Pangan dan Agroindustri. 2014;2(4):170–7.
Prayoga E. Perbandingan Efek Ekstrak Daun sirih hijau (Piper betle L.) dengan metode difusi disk dan sumuran terhadap pertumbuhan bakteri Staphylococcus aureus. Universitas Islam Negeri Syarif Hidayatullah Jakarta; 2013.
Maharani MD, Gama SI, Masruhin MA. Uji aktivitas antibakteri kombinasi ekstrak etanol Daun Kelor (Moringa oliefera lam) dan Daun Salam (Syzygium polyanthum Walp). Proceeding 6th Mulawarwan Pharm Conf. 2017;48–53.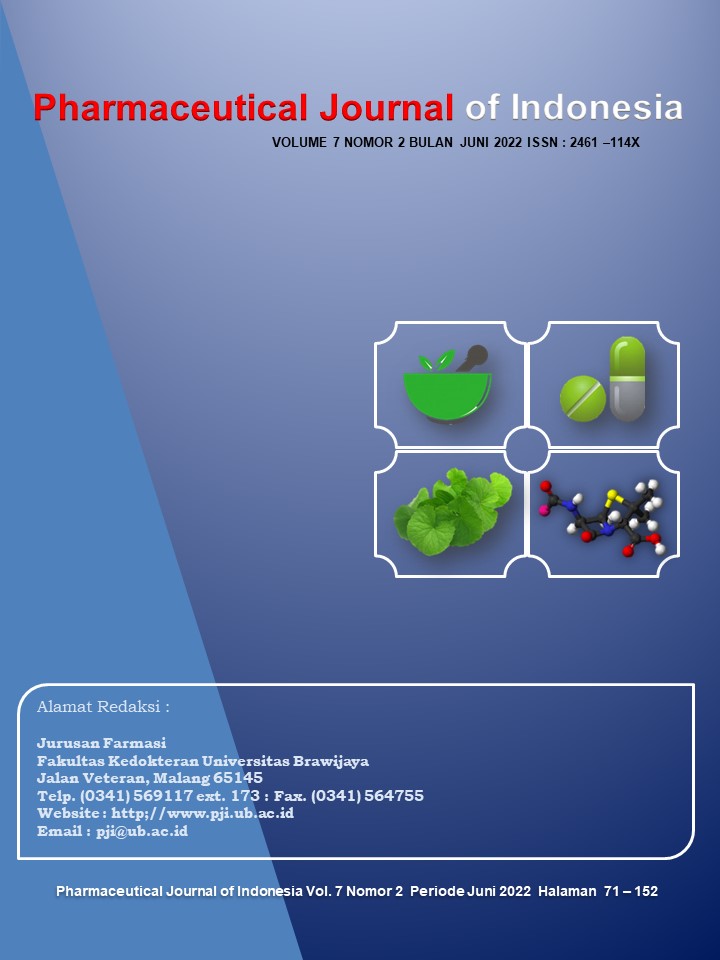 Downloads
License
This work is licensed under a 
Creative Commons Attribution 4.0 International License