Pengaruh Kombinasi Polimer PVP:EC dan HPMC:EC Terhadap Sediaan Transdermal Pada Karakteristik Patch yang Baik : Review
Keywords:
Transdermal, Kombinasi Polimer, Karakteristik
Abstract
Transdermal is a drug delivery system that is placed through the surface of the skin to release the active substance in a certain dose into the bloodstream. The main constituent component in the transdermal drug delivery system which has an effect on characteristics is polymer. One of the developments in the transdermal route is the manufacture of patch preparations. Physically, a good patch must be flexible, thin, smooth, homogeneous, have drying shrinkage and low moisture absorption. So the aim of this review article was to determine the effect of polymer combinations on transdermal preparations on good patch characteristics. The method used in this review article is a literature review of various journals published online, with the category of national and international journals. The results obtained 2 primary journals related to polymer combinations to transdermal preparations, namely the combination of PVP: EC and HPMC: EC. The results of the review show that the polymer combination can have an influence on the characteristics of the patch, including the fold resistance test, weight uniformity test, thickness test, drying shrinkage test and moisture absorption test.
References
Rahim F, Deviarny C, Yenti R, Ramdani P. Formulasi Sediaan Patch Transdermal dari Rimpang Rumput Teki (Cyperus rotundus L.) Untuk Pengobatan Nyeri Sendi Pada Tikus Putih Jantan. Scientia. 2016;6(1):1-6.
Ermawati DE, Prilantari U. Pengaruh Kombinasi Polimer Hidroksipropilmetilselulosa dan Natrium Karboksimetilselulosa terhadap Sifat Fisik Sediaan Matrix-based Patch Ibuprofen. 2019;02:109-119. doi:10.20961/jpscr.v4i2.34525
Suryani, Ode W, Musnina S, Anto AS. Optimasi Formula Matriks Patch Transdermal Nanopartikel Teofilin dengan Menggunakan Metode Simplex Lattice Design ( SLD ). 2015;3(1):26-32.
Ismail I, Ningsih S, Putrianti N. Formulasi, Karakteristik dan Uji Penetrasi In Vitro Patch Ekstrak Biji Kopi Robusta (Coffea Canephora ) Sebagai Sediaan Anti Selulit. 2015;2(3):1-60.
Ammar HO, Ghorab M, El-Nahhas SA, Kamel R. Polymeric matrix system for prolonged delivery of tramadol hydrochloride, part I: Physicochemical evaluation. AAPS PharmSciTech. 2009;10(1):7-20. doi:10.1208/s12249-008-9167-0
Arunachalam A, Karthikeyan M, Kumar DV, Prathap M, Sethuraman S, Ashutoshkumar S. Review Article Current Pharma Research Transdermal Drug Delivery System : A Review. Curr Pharma Res. 2010;1(1).
Rowe C R, Sheskey J P, Quinn E M. Handbook Of Pharmaceutical Excipients. Rev des Nouv Technol l'Information. 2015;E.28:262-265, 517-521, 592-593, 600-601.
Patel D, Chaudhary SA, Parmar B, Bhura N. THE PHARMA INNOVATION Transdermal Drug Delivery System: A Review. 2012;1(4). www.thepharmajournal.com.
Gavasane AJ. Synthetic Biodegradable Polymers Used in Controlled Drug Delivery System: An Overview. Clin Pharmacol Biopharm. 2014;3(2). doi:10.4172/2167-065x.1000121
Gaikwad KA. Transdermal Drug Delivery System: Formulation Aspects and Evaluation. Rev Artic. 2014;14(2):471-474. doi:10.1016/j.mpsur.2011.06.010
Prabhakar D, Sreekanth J, Jayaveera KN. Transdermal Drug Delivery Patches: a Review. J Drug Deliv Ther. 2013;3(4):213-221. doi:10.22270/jddt.v3i4.590
Digambar Mali A, Bathe R, Patil M. An Updated Review On Transdermal Drug Delivery System. Int J Adv Sci Res. 2015;1(06):244-254. doi:10.7439/ijasr
Fatmawaty A, Nisa M, Irmayani, Sunarti. Formulasi Patch Ekstrak Etanol Daun Murbei (Morus Alba L.) dengan Variasi Konsentrasi Polimer Polivinil Pirolidon dan Etil Selulosa. J Pharm Med Sci. 2017;2(1):17-20.
Arifin A, Iqbal M. Formulasi dan Uji Karakteristik Fisik Sediaan Patch Ekstrak Etanol Daun Kumis Kucing (Orthosiphon Stamineus). 2019;5(2):187-191.
Parivesh S, Sumeet D, Abhishek D. Design, Evaluation, Parameters and Marketed Products of transdermal patches: A Review. J Pharm Res. 2010;3(2):235-240.
Misnamayanti M, Sugihantoro H, Fauziyah B. Pengaruh Variasi Konsentrasi Propilen Glikol Sebagai Enhancer Terhadap Sediaan Transdermal Patch Ibuprofen In Vitro. J Islam Pharm. 2019;4(2):27-31. doi:10.18860/jip.v4i2.8029
Al Hanbali OA, Khan HMS, Sarfraz M, Arafat M, Ijaz S, Hameed A. Transdermal patches: Design and current approaches to painless drug delivery. Acta Pharm. 2019;69(2):197-215. doi:10.2478/acph-2019-0016
Patel NA, Patel NJ, Patel RP. Design and evaluation of transdermal drug delivery system for curcumin as an anti-inflammatory drug. Drug Dev Ind Pharm. 2009;35(2):234-242. doi:10.1080/03639040802266782
Purnama H, Mita SR. Review Artikel: Studi In-Vitro Ketoprofen Melalui Rute Transdermal. Farmaka. 2018;14(1):70-80.
Ameliana L, Nurahmanto D, Puspitasari KD. Optimasi Hidroksipropil Metilselulosa dan Carbopol terhadap Moisture Content dan Laju Pelepasan Patch Ibuprofen In Vitro (Optimization of Hydroxypropyl Methylcellulose and Carbopol for Moisture Content and Release Rate of Ibuprofen Patch In Vitro). Pustaka Kesehat. 2016;(Vol 4 No 2 (2016)):229-234. https://jurnal.unej.ac.id/index.php/JPK/article/view/3033.
Kandavilli S, Nair V, Panchagnula R. Polymers in transdermal drug delivery systems. Pharm Technol North Am. 2002;26(5):62-80. doi:10.5360/membrane.19.75
Hermanto FJ, Nurviana V. Evaluasi Sediaan Patch Daun Handeuleum (Graptophyllum griff L) Sebagai Penurun Panas. J Kesehat Bakti Tunas Husada J Ilmu-ilmu Keperawatan, Anal Kesehat dan Farm. 2019;19(2):209. doi:10.36465/jkbth.v19i2.499
Ameliana L, Nurahmanto D, Puspitasari KD. Optimasi Hidroksipropil Metilselulosa dan Carbopol terhadap Moisture Content dan Laju Pelepasan Patch Ibuprofen In Vitro. Pustaka Kesehat. 2016;(Vol 4 No 2 (2016)):229-234. https://jurnal.unej.ac.id/index.php/JPK/article/view/3033.
Arifin A, Marianti S. Evaluasi Karakteristik Fisik dan Uji Permeasi Pada Formula Patch Aspirin Menggunakan Kombinasi Etil Selulosa Dengan Polivinilpirolidon. J Sains dan Kesehat. 2019;2(1):40-49.
Nurahmanto D. Pengaruh Perbedaan Chemical Penetration Enhancer Pada Penetrasi Transdermal Patch Prometazin Hcl. 2016;2(2):208-217.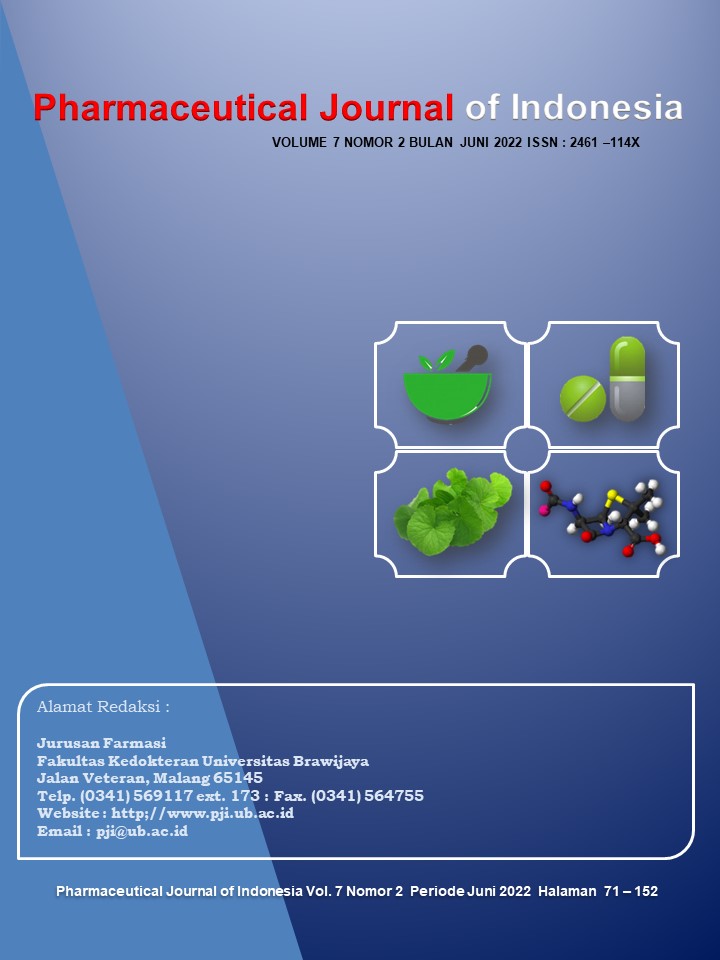 Downloads
License
This work is licensed under a 
Creative Commons Attribution 4.0 International License